How to up your Credit Score
Having a good credit score should be important to all South African's, this 3 digit number increases the chances of being approved for beneficial financial products (home loans, payday loans, credit cards) and inevitably plays a big role in planning and executing one's financial life and future prospects.
This score is used by creditors and lenders, such as Mpowa Finance, to easily and accurately determine your financial track record, including repayment history and whether debts were paid in full and on time. Even prospective employers rely on it. The higher the score, the more likely the approval process for that loan or credit card.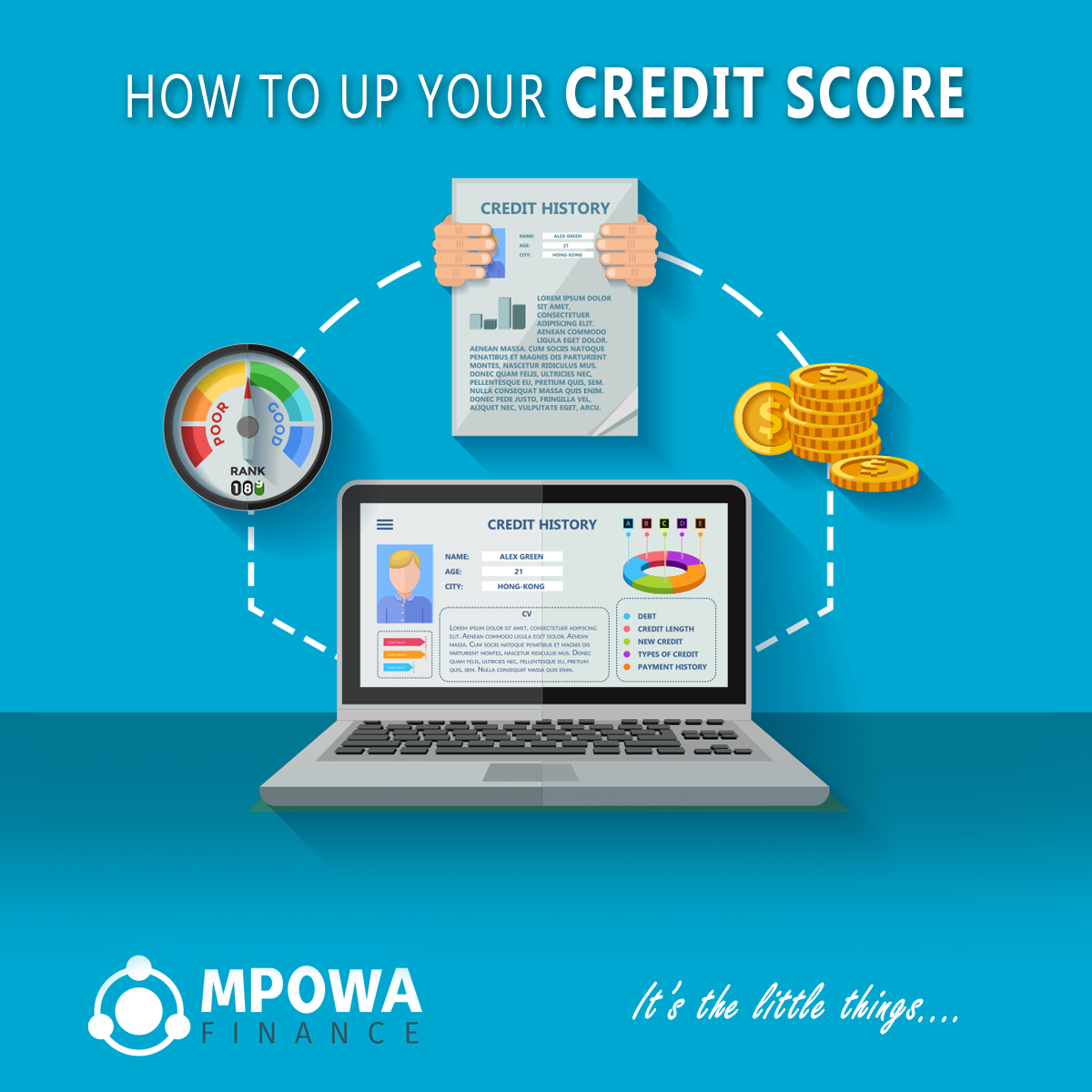 There are many South Africans that are not happy with their credit score, for whatever the case, and therefore are missing out on opportunities to better their lives. Improving your credit scores is not impossible but it does take some time, but there is no time like the present so let's get your credit scores up!
We want to give you a few tips that can help bring your score up and help you plan for a better future. The following actions, over time, will improve your scores:
1. Get Organised - Don't forget to pay your bills, rather set up direct debits to pay your expenses and leave it to the banks.

2. Resist Spending - Keep your balances low with a credit card, you don't have to spend everything available to you, this will increase your card utilisation and show lenders you cannot manage your credit sensibly.

3. Keep up - Ensure when paying back debt that payment installments are done in full and on time! Usually there is a minimum amount required on your accounts and paying less will negatively affect credit scores.

4. Double-check - It's important to make sure your details are up to date and fix any mistakes such as name typos as this could negatively affect the scores.

5. Plan ahead - Try not to open too many accounts in a short period of time. Having too many enquiries into your credit as a result of excessive credit applications is also not a good thing. Planning in advance allows you to get your credit score in check before applying.
On a last note, check your credit scores and reports regularly. Stay informed with actions that increase and lower your scores, identity theft and fraud is a sad reality faced by millions of South Africans. Knowing your score and striving to maintain or improve it is the responsible thing to do for your future.
If you have never had a credit check done before, Mpowa Finance does a free check when you apply for an online loan.